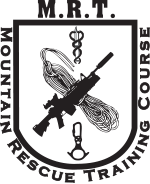 Introduction
Mountain Rescue Training is designed to serve as a refresher–or to further the knowledge of–the novice or out-of-currency climber. It begins a the basic level and takes the student to a well-rounded intermediate level.
Topics
Hitches, load transfers, blocks and tackles, and knot by-passes
Placement of anchors and utilization of natural anchors
Rappelling techniques and fixed-line operations
Lowering and hauling systems
Technical climbing techniques
Suspension traverse operations
Litter rescue techniques
and more.
Objectives
All field operations are conducted by certified American Mountain Guides (AMGA).
MRT courses fulfill all or part of the following USAF CFEP 1T2X1-Related Tasks:

Low- and High-Angle Rescue Fundamentals: 6.3
Rappel: 6.5
Mountain evacuation operations: 6.9