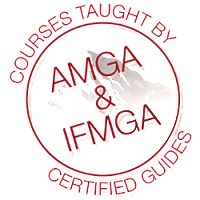 Students can expect to develop a good grounding in how to prepare for and carry out a trip, to understand basic decision making while in the field, and to learn rescue techniques required to find and dig up a buried person (if an avalanche occurs and someone in the party is caught).A final debrief includes a knowledge quiz to test student comprehension and to give feedback to instructors on instructional tools.
Avalanche – Aiare Level 1
Decision Making In Avalanche Terrain
(In affiliation with SMG)
Students are encouraged and counseled on how to apply the skills learned and told that no course can fully guarantee safety, either during or after course completion. A link is made to a future AIARE Level 2 course.
At the end of the Level 1 course the student should be able to:
Plan and prepare for travel in avalanche terrain
Recognize avalanche terrain
Describe a basic framework for making decisions in avalanche terrain
Learn and apply effective companion rescue
Instructional sessions (24 hours including both class and field instruction):
1. Introduction to the Avalanche Phenomena
Types and characteristics of avalanches
Avalanche motion
Size classification
The mountain snowpack: an introduction to metamorphism and layering
2. Observations and Information Gathering
Field observation techniques
Snowpack tests: rutschblock, compression test
Avalanche danger factors or "Red Flags"
Observation checklist
Avalanche danger scale
3. Trip Planning and Preparation
Avalanche terrain recognition, assessment, and selection
Route finding and travel techniques
Decision making and Human Factors
4. Companion Rescue and Equipment
Prerequisites:
No previous experience is required. Appropriate physical and mental fitness is necessary. Participants will be required to perform physically strenuous activities.
Custom dates are also available, please fill out our contact form or call the office at 910-286-5170 or 603-733-8416 for more information.
Required equipment for all avalanche courses:
Ski socks
Long underwear top and bottom
Fleece or softshell pants
Fleece Jacket
Hard shell (Gore-Tex or other waterproof/breathable) pants/bibs and jacket
Puffy coat (synthetic or down)
Warm hat
Balaclava/neck warmer
1 pr. approach/lightweight gloves
1 pr. warm waterproof gloves or mitts
Goggles
Sunglasses
Day pack (approx. 3000 cu. in)
Headlamp with extra batteries
2 liters of water or thermos
Lunch and snacks for each day
Lip balm
Sun screen
Alpine touring or Telemark skis or Splitboard with skins, or Snowboard and snowshoes, or just snowshoes.
Ski Boots
Ski poles
Helmet
Optional: Repair kit, camera, altimeter watch, first aid kit, Mt. Washington map, compass
We will supply you with beacon, probe and shovel, but if you have your own, please let us know. You will also be receiving from us an AIARE Field Book and the AIARE Level 1 Student Manual.