AMGA Single Pitch Instructor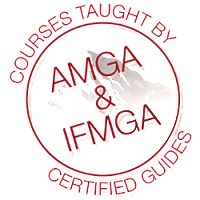 Introduction
The American Mountain Guides Association Single Pitch Instructor (SPI) Program teaches climbing instructors to facilitate and instruct proficiently the sport of rock climbing in a single-pitch setting. The SPI is the only internationally-recognized single-pitch climbing instructor certification program in the United States. It was developed to fit in the AMGA Rock program.
AMGA Single Pitch Instructor Courses And Exams
 (In affiliation with SMG)
We offer the SPI Course and SPI Assessment frequently throughout the season, and make room for individuals and small groups to choose private dates not listed below. If you need to get a course or exam finished this season but can't make any of the scheduled choices, then just give us a call and we'll try to arrange something that works.
All of our SPI courses and exams are run by Charlie Townsend, who has been involved with the AMGA's Single-Pitch Program since its inception. He brings a great deal of experience and insight to the material, but is open-minded and eager to consider alternative approaches. As one of only ten SPI Provider Trainers in the country, he has been exposed to a wide variety of techniques and concepts, and in many cases, has "trained the trainers" offering some other programs out there.
Details regarding the AMGA Single Pitch Program
It significantly improves the instructor's skill sets and integrates into the next level of training, the AMGA Rock Instructor Course.
The program is for current, active rock climbers who have a real desire to teach rock climbing to novices in a single pitch setting.
Successful completion provides a tangible, recognized certification to reassure potential or current employers, insurance carriers, and land managers.
The SPI Course is a 27-hour training course that normally runs as three consecutive nine-hour days or day classes with evening sessions.
The SPI Assessment is a minimum of 16 hours run over a two-day period.
Prerequisites for the AMGA SPI Course:
You have a genuine interest in rock climbing and instructing novices on single pitch crags.
You are at least 18 years old at the time of the course.
You have at least 12 months prior climbing experience.
You are an active climber with traditional lead climbing experience (leader placing pro).
You have led a minimum of 15 traditional rock climbing routes (any grade).
You are capable of comfortably climbing 5.8 while on a top rope.
The above prerequisites are absolute minimums. Without having at least this amount experience you are unlikely to make best use of the training. Documentation/climbing resume should be provided at time of enrollment.
Costs:
AMGA Single Pitch Instructor Course (three days) – $600 per person
AMGA Single Pitch Instructor Assessment (two days) – $425 per person