STOALS - Special Tactics Operators' Advanced Life Support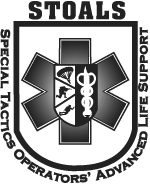 Introduction
STOALS is a tailor-made medical course of instruction that fulfills and exceeds the NREMT Paramedic refresher requirements. It is an operationally focused paramedic re-certification course styled for special operations and expeditions in diverse settings in which definitive care is denied or indefinitely delayed. It is, essentially, a one-stop course requirement solution. Lectures are conducted by the most highly skilled subject matter experts in the field.
Green Feet Enterprises (dba S.E.I.) Exceeds Congressional DoD mandates for CERFP, NGHRF, CCMRF, and other National Guard and Reserves medical conversion/readiness requirements.
Download more information.
Topics
National Registry updates
Protocols from the new USAF PARARESCUE Handbook
Medical review by systems
Trauma review by systems
Tactical operations/expeditionary considerations
BLS/ACLS/PALS/ PHTLS refresher
Canine rescue medical training
Field transfusion, extended care, vents and capnography
Emphasis on scenario based training
CEUs through such topics as:

High-angle rescue operations
Hands-on labs
Special sessions on HPO and psychological resilience
Objectives
USAF PARARESCUE refresher requirements and NREMT paramedic re-certification requirements:

(2) Hours, Operational Skills
(6) Hours, Trauma Lanes/Skills
(8) Hours, Medical Emergencies
(16) Hours, Airway, Breathing, Circulation 16 Hours, Obstetrics and Pediatrics

ACLS, PALS, PHTLS refresher training
STOALS courses typically fulfill all or part of the following USAF CFETP 1T2X1-Related Tasks:

Global Environmental Considerations: a, b, c, d, e, f.
Desert Operations: a, e, f, g
Jungle Operations: a, e, f, g
High-latitude/Arctic Ops: a, e, f, g
Mountain Operations: a, e, f, g
Climbing Fundamentals: a, b, c, d, e, f
Roped Climbing: a, b, c, d, e
Construct Anchor Systems.
Perform Care of Climbing Equipment.
Use Climbing Techniques.
Use Rappelling Techniques.
Perform Litter Techniques.
Use Snow/Ice Climbing Procedures and Techniques: a, b, c
Mountain Evacuation Techniques: a, b
Maintain EMT-I and –P Qualifications.
PARARESCUE-Specific Medications.
Identify S&S and Tx of Diseases of Mil Importance a, b, c, d, e, f, g, h, i, j, k
High-Altitude Illness: a, b