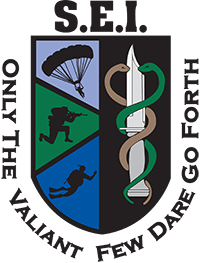 Prolonged Field Care Course (PFC)
Course Description: Beyond the Golden Hour
Prolonged Field Care (PFC) is simply care that is required to sustain an ill or injured patient beyond the planned time period or during contingency operations. This course is designed to improve outcomes in patient morbidity and mortality and is fundamentally rooted in real-world cases and experience from on/off the battlefield.
Born out of necessity, PFC is rapidly becoming an expected capability across the globe. The course is customizable to the level of the Operator, student, medic or non-medic, and is offered in a 4 or 5-day module complete with academic lectures, hands-on practicals, and scenario-based exercises. In keeping with the S.E.I. standard, PFC is instructed by the most experienced subject matter experts ISO joint medical operations and tier integration.
Day 1: level 1 academics and hands-on skills/practicals
Day 2: gear/equipment familiarization (organization specific); medex
Day 3: level 2 academics and advanced procedures/critical care/advanced nursing care
Day 4: full MEDEX; debrief
Day 5: Optional academic review, Q & As, research and development discussion, academic paper deepdives, tailorable day ISO specific unit or mission set.