Resilient Warrior: Operators and Spouses Retreat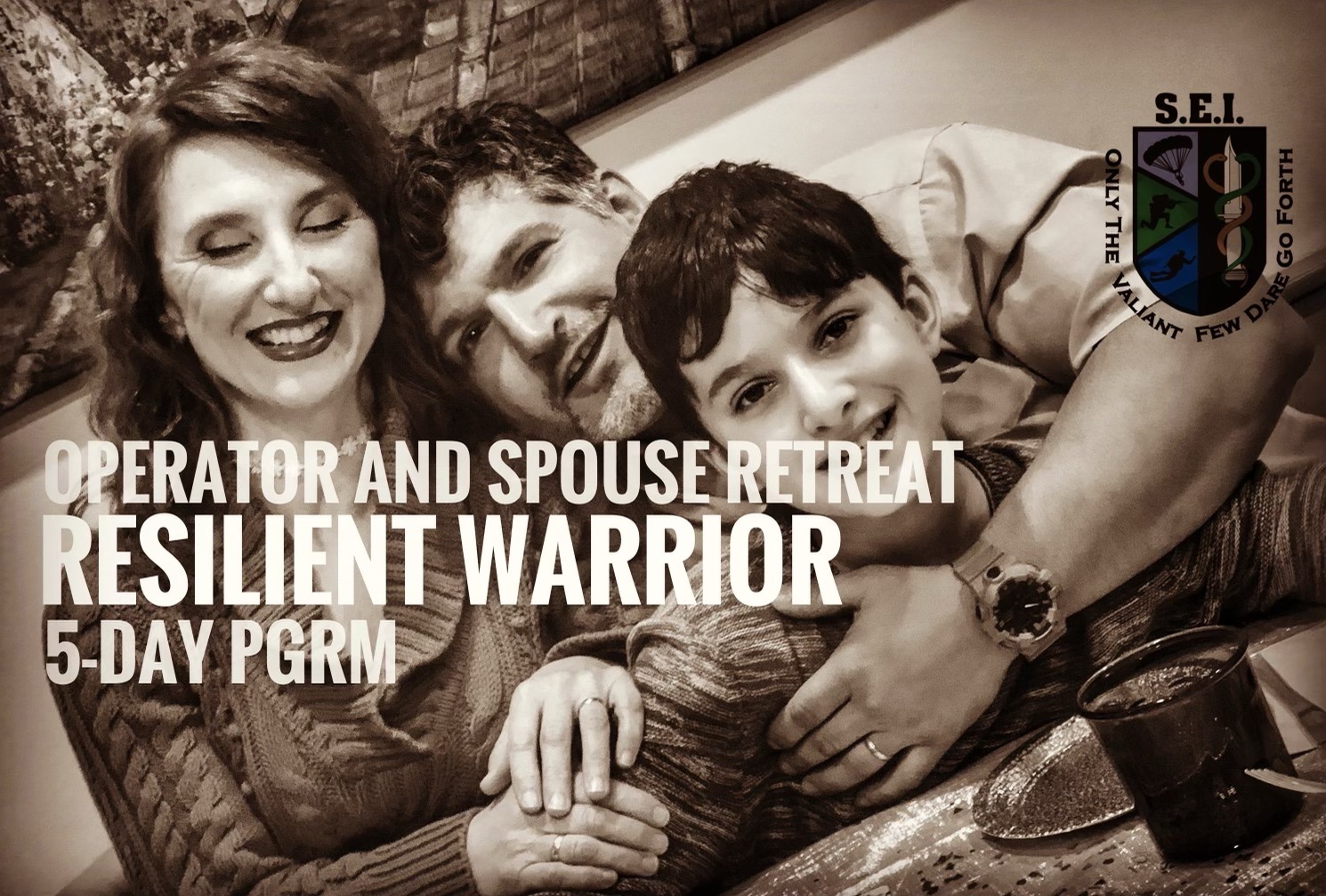 Retreat description
In keeping with our continued initiatives toward SOF Preservation Of The Force and Family (POTFF), S.E.I. offers the second roll-out program – Resilient Warrior – Operators and Spouses Retreat
Resilient Warrior is a 5-day Course Of Instruction (COI) aimed at providing pragmatic tools and the renewing of the crucial fabric of the warrior's head, heart, and gut.  Many times, cultural stoicism deter most from discussing issues within, often resulting in high, but suppressed, anxiety felt by those closest to the individual. Over time, this lifestyle erodes family relationships and trusted teams.  As we all know too well, it's all about our commitment to building, nurturing and retaining our most important relationships – spouses and family, along with the teams. This mindset and committed lifestyle, is paramount to consistently achieving and sustaining Mission success!
Realizing and understanding the critical importance of building, nurturing and retaining your overall well-being, S.E.I.'s "Resilient Warrior", is offering a transformational journey in the art of emotional intelligence, mindfulness, and resiliency. Our COI offers an experiential week  for individuals to seek and obtain happiness, fulfillment and success in all areas of their personal and professional lives.
This is for OPERATORS and SPOUSES to attend.
"Your Mindfulness Journey" focuses on exploring the lifestyle habits and health benefits to:
Improve self-awareness, emotion regulation and self-control;
Improve concentration, focus and "effective" communication;
Identify, understand, and manage our/other's emotions, anxiety and fear levels;
Increase immune function, decrease stress;
Build resiliency- coping with adversity and bouncing back;
Embrace sharing, caring and serving behaviors to achieve happiness and fulfillment.
Develop personal and team leadership behavioral traits to build stronger and lasting relationships.
Conflict resolution
LOCATION:
Leadership & Freedom Center Team at the Lodges at Gettysburg
The Lodges at Gettysburg, an elegant 63-acre private retreat.