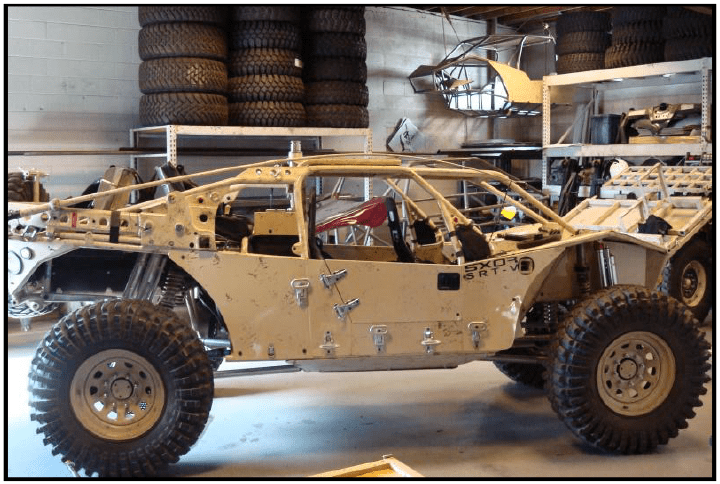 The advanced rally driving techniques covered will increase student confidence and develop a reflex response to emergency situations. These techniques include: vehicle dynamics, the five types of skids, high-speed obstacle avoidance, as well as the proper read and response to adverse road conditions. Front wheel drive, rear wheel drive, all wheel drive and high center of gravity four wheel drive vehicles are utilized during the training.
Team O'Neil Rally School offers our training features a 2 to 1 Student to Instructor ratio for optimum driving skill development. Daily training will include one hour of classroom instruction and a minimum of five hours of driving, navigation, and observation. Our training simulates real alpine conditions with terrain and elevation changes of up to 500 feet. We focus our training to experience multiple vehicles on multiple surfaces across multiple terrain scenarios. All of which a continued focus on safety, personal security, and survivability.
While Team O'Neil is the world's leading experts on mobility training we also offer offensive driving and tactical training to clients who will find themselves in situations where defensive driving is not enough. Team O'Neil partners with the Ogontz Group when adding the tactical piece. This will give the students more seat time and Ogontz will create real world scenarios based on your needs.
We are confident that this program will provide your unit the experience and training necessary to successfully compete with the best drivers in the world.
PARTIES: Team O'Neil Rally School
PERIOD OF PERFORMANCE: As determined
TRAINING DAYS: As determined
CLASS SIZE: Recommended class size is twelve (12) students, and can support up to twenty (20) per iteration.
PLACE OF PERFORMANCE: Team O'Neil Rally School, Dalton, NH
FINANCIAL: Team O'Neil will perform/complete an agreed course curriculum under a Firm Fixed Price contract.
The course price typically includes all options, scenarios, and equipment. We can change the training to fit in a specific budget or focus on a primary training objective.
THE TEAM:
Team O'Neil is a very unique, deeply experienced, and highly qualified group that is committed to this specific type of complex and dynamic training program. We have proven our Zero-Fail mentality and achieved an unparalleled success rate with the most elite organizations within the DOD. Our combined team functions as an extension of your training cadre, seamlessly focused on common objectives.
DESCRIPTION OF WORK:
Training is custom tailored and can focus on the following areas:
• Advanced loose surface driving techniques
• Understanding and mastery of left foot braking
• Manual transmission training in FWD, AWD, RWD, and HCG vehicles
• Mechanic 101 and 201 course focusing on field expedient repair
• Low speed off-road course using Jeep Cherokees
• Optional: Offensive driving includes Pitting, Ramming, J-Turns, high speed reverse, and includes all extra cost for damaged vehicles.
• Optional: Night training available (white light and night vision). Teams must bring NVG's as Team O'Neil does not provide NVG's.
• Optional: Tactical Program- A custom built 3rd world scenario run around the standard rally course. Includes checkpoints, border crossings, attack on principal, bail out drills, and other custom tailored experiences based on your group's needs. All additional staff, weapons, ammo, targets, and safety included.
INCLUDED / PROVIDED:
• Team O'Neil Instructors 1 for every 2 students
• Vehicles including FWD, AWD, RWD, and HCG training platform vehicles
• Tires, Fuel, and all other vehicle consumables
• Final planning and coordination meetings upon award of contract
AMPLIFYING INFORMATION:
• 4 seasons of weather including winter snow and ice conditions. The weather in Northern New Hampshire can vary drastically. Training will take place regardless of weather conditions.
• 550+ acres of private, secure training facilities
• 500+ feet of elevation change and alpine terrain
• 3 North American Rally Champions on staff as full time instructors
• 6+ miles of purpose built training areas and roads
• Vehicle training platforms that match real world vehicles of all types (FWD, AWD, RWD, HCG and manual transmissions)
• Veteran owned HUB Zone Disadvantaged Business
Technical Capabilities
Team O'Neil specifically cover advanced mobility/driving techniques. Rally racing is a competition motorsport recognized throughout the world and is about getting from point A to B in any vehicle type, in any type of weather condition and road surface on relatively unknown stretches of roads. Team O'Neil teaches these same rally techniques that directly transfer to real world, high-risk situations that you find yourself facing. It's as much about endurance and survivability as a race.
We teach Left Foot Braking (LFB) exclusively in all vehicle types: Front, All, Rear and High Center of Gravity. These well established, race proven techniques of car control coupled with our specific methodology will give anyone the confidence to drive any vehicle well in all situations. We train to standard and not to time. Our training allows the student to develop reflex/instinctive reactions to uncontrolled situations.
Training Vehicles
At Team O'Neil you will train in manual transmission, front, all, rear and High Center of Gravity vehicles. We do have students who have never driven a manual transmission and we can quickly teach them how.
Our vehicles are training platforms. We do not use race cars or tactical specific vehicles. Our fleet of vehicles is maintained on a daily basis by our onsite repair, maintenance and fabrication facilities. All repairs and fueling are completed on-site to minimize potential downtime in training for our customers.
Vehicles available:
FWD- 2009 Ford Fiesta (20) and 2014 Fiesta ST turbo (4)
AWD- 1984-88 Audi Quattro (8), 1994-2001 Subaru Impreza (5) and 2002-05 Subaru Impreza WRX (4)
RWD- 1986-91 BMW 325 (3), 1991-1997 Ford Crown Vic (4)
HCG- 1989-2000 Jeep Cherokee (8)
With 56 active vehicles in our fleet there will never be a time when a student will not be able to continue training due to a crash or broken down vehicle.
Key Personnel
All personnel involved with our training, instructors and mechanics, are subject matter experts in their associated fields. With our 2 to 1 student/instructor ratio, maximum time is spent training to the individual student. We have trained personnel from every Government Agency and DoD element that requires mobility training. Our primary focus is mobility, whether you are involved with Joint Non-Traditional Vehicles (JNTV) for Low Visibility Ops or need to navigate through unknown terrain.
All Key personnel are currently employed by Team O'Neil. Detailed resumes available on request for all personnel.
Tim O'Neil Owner and Instructor at Team O'Neil Rally School
-Rally driving instructor and subject matter expert 1998-current
-5 time North American rally champion
-Driving instructor to US Special Operations personnel 2000-current
-United States Air Force Veteran
Travis Hanson Director of Training at Team O'Neil Rally School
-Rally driving instructor and subject matter expert 2007-current
-2011 Super Production Rally American National Champion
-X Games 14 and 16 Rally Car competitor
-Driving instructor to US Special Operations personnel 2008-current
Chris Komar Lead Off Road Instructor at Team O'Neil Rally School
-Rally instructor and off-road driving subject matter expert 2002-current
-Land Rover off-road driving instructor1994-2002
-Rally Mechanic for Subaru Rally Team USA 2005-current
-Driving instructor to US Special Operations personnel 2003-current
Alan Moody Lead Mechanical Instructor at Team O'Neil Rally School
-Rally instructor and mechanical subject matter expert 2004-current
-Automotive Mechanic 1991-2004
-2008 North East Regional Rally Champion
-Driving instructor to US Special Operations personnel 2007-current
Wyatt Knox Instructor at Team O'Neil Rally School
-Rally driving instructor and subject matter expert 2003-current
-2011 Rally America 2WD National Champion
-Driving instructor to US Special Operations personnel 2004-current
Chris Rennie Instructor and Facilities Manager at Team O'Neil Rally School
-Rally instructor 2009-current
-Driving instructor to US Special Operations personnel 2010-current
Allen Welch Instructor at Team O'Neil Rally School
-Rally instructor 2012-current
-New Hampshire State Police 1984-2010
-New Hampshire Governor Protective Service Detail 1989-1992
-Driving instructor to US Special Operations personnel 2012-current
Jesse Emerson Fleet Manager at Team O'Neil Rally School
-ASE and New Hampshire State certified technician
-Lead auto technician 2002-current
Training Facilities
Unimproved road driving
Team O'Neil is located in Dalton, New Hampshire on 566 acres of alpine terrain with elevation changes up to 500 feet, 6+ miles of roads and two 300 foot diameter gravel skid pads. Our roads consist of packed gravel and clay designed specifically to replicate 2 lane roads typical of what you would find throughout the world. With 50+ different types and combinations of corners, blind crests, decreasing and increasing radius corners, on and off camber turns and junctions, students are exposed to every driving challenge they may face. As students advance in their skills they are exposed to driving our roads with trees that will obstruct their view and not allow them to anticipate the following obstacles.
Most driving will be done at 30-40 miles per hour but sections will allow them to reach up to 70 miles per hour.
We prefer dirt road surface because we can constantly change the grip level and transition from differing grip levels to create the same conditions found in the real world. Understanding the road's limitations is one of our primary principles taught. This separates us from the normal performance driving school. Learning proper skid control in a safe environment helps to alleviate the anxiety of driving in difficult conditions. Being located in Northern NH we can have all weather conditions sometimes on the same day and we maintain our roads on a daily basis. Team O'Neil has multiple tractors used for course maintenance and will need less than 15 minutes to complete maintenance during active training.
Off-Road Driving
Team O'Neil also provides technical off-road driving during 5 and 6 day wheeled mobility programs. We study the different driveline and suspension types found in typical four wheel drive vehicles. We use training areas that replicate basic and advanced terrain you would encounter in the field. The training lanes at Team O'Neil include articulations, side tilt/slopes, ascents/descents, ditches and logs, spotting exercises and terrain reading scenarios. We will practice testing approach, ramp/break-over and departure angles and our off road training also features failed hill climb exercises. The weather in Northern New Hampshire constantly changes the available grip utilized during our course of instruction.
Our winching and recovery training includes non-winching techniques as well as winch recovery. We utilize and practice different recovery techniques based on the situation and condition of the vehicle that needs recovery. Students will learn about static and kinetic strap techniques, high-lift jacks and basic winch operation and recovery techniques.
The on-site course is over 1.5 miles long and includes aggressive driving angles over 35 degrees on hills that are over 50ft long.
Classrooms and Equipment
Our climate controlled indoor classrooms and cabins are utilized to provide the basic academic portions of our training. Audio and visual training aids are used on a daily basis to supplement physical training in the cars.
Safety
Safety is always paramount at Team O'Neil. All vehicles are equipped with fire extinguishers and 4-point harnesses. Vehicles used as we progress onto narrower roads at higher speeds are fully caged and are inspected and maintained daily. A student can bring their own helmet if they desire, but Team O'Neil does provide all required safety equipment. Team O'Neil has an on-site emergency plan and has direct contact with local emergency rescue personnel. Our lead mechanic is also a member of the local fire department. An on-site EMT can be utilized for the duration of this course of instruction.
It is company policy that if an employee does a dangerous act that has a high chance of injury or death they are immediately terminated. Team O'Neil has never had a student permanently or seriously injured.
Flexibility
At Team O'Neil we like to say that we are "fluidly-flexible." This means at any time we can flex and move the training schedule to fit the group's specific needs. Custom tailored courses to fit the needs of deployment can be arranged in advance of the course with ease. Even during the operation of the course of instruction Team O'Neil will try to accommodate each groups specific training needs. We want our students to have the most applicable training possible.
Pricing
The GSA price (GSA Contract #GS-02F-0080T) Mobility Course per person:
3 Days: $3312
4 Days: $4419
5 Days: $5391
6 Days: $6345
Optional add on:
Night Driving course: $200 per person (suggested bring own night vision)
Offensive Driving: $1000 per person (includes costs of wrecked vehicles)
Tactical: $2000 per person
We do accept Government P-Cards, as well as EFT. THE CLASS IS NOT SECURED UNTIL RECEIPT OF THE DEPOSIT OR CONTRACT. If a contract will not be issued, it is our policy that we receive 50% of the cost of the course in order to secure dates; final 50% is due 14 business days prior to class commencement. Dates shall not be officially secured until receipt of deposit. The student group may terminate the course arrangements upon a 14 business day notice to Team O'Neil Rally School and Car Control Center. After that, as liquidated damages, we will retain 25% of the total course cost. The minimum charge per class will be for 6 students. Changes to the number of students made 14 business days or more prior to the class commencement will result in the applicable cost adjustment; however, no refunds for individual no-shows will be made after that.
Under all of the cases listed above, no additional charge shall occur if damage is done to the body or main suspension, which includes anything broken or bent from collision. Additionally, Team O'Neil is not responsible for providing medical insurance and automobile liability insurance. It is expected that all attendees will sign a liability release form upon arrival.
Team O'Neil Rally School's Cage Code is 1NSV5 and falls under NAICS 611692.
Team O'Neil Rally School is CCR registered and a Small Disadvantaged Veteran-Owned Business in a Historically Underutilized Business Zone (HUBZone). FAR Subparts 19.1305 and 19.1306 provides agencies the authority to negotiate exclusively with a HUBZone company. "Contracting officers shall consider HUBZone set-asides before considering HUBZone sole source awards or small business set-asides (Subpart 19.1305); and/or "contracting officer may award contracts to HUBZone small business concerns on a sole source basis without considering small business set-asides" (19.1306).
Potential 6 Day course schedule:
Privileged Information under FOIA (5 U.S.C.552) subsection (b)(4) 6 Day Loose Surface Curriculum with Offensive option.
Day 1
0830-0900 Meet Students at hotel and Convoy to School
0900-1015 Introduction to Left Foot Braking and Car Control
1015-1130 Skidpad & Slalom, Steering with the Brake
1130-1245 Lunch
1300-1530 Line and Apexes/Accident Avoidance
1530-1630 Mechanic 101
Day 2
0900-1130 Fast, Medium, Slow Turns/Introduction To Pendulum Turns
1130-1245 Lunch
1300-1430 Fast, Medium, Slow Turns/Pendulum Turns
1430-1530 Introduction to All Wheel Drive Vehicles
1530-1630 Introduction to Basic Off Road Driving
Day 3
0900-1130 Basic Off Road Driving Practical Exercise
1130-1245 Lunch
1300-1530 Fast, Medium, Slow Turns/Pendulum Turns/Trail Braking
1530-1630 Mechanic 201
Day 4
0900-1200 Introduction to Rear Wheel Drive and High Center of Gravity Vehicles
1200-1300 Lunch
1300-1530 Close Course Practical Exercise
Dusk-UTC (Optional) Limited Visibility/Night Familiarization in Sedans
Day 5
0900-1300 Culmination Exercises w/Sedans, HCG
1200-1300 Lunch
1300-1600 Rough Road Driving/Transition to off Road
Day 6
0900-1300 Offensive driving round robin (Pitting, Ramming, High speed reverse, J-
Turns)
1300-1400 Lunch and 'Reading the Road' Exercise
1400-1500 Putting-it-all-together and Graduation
Release of this information to unauthorized individuals would result in "Substantial competitive harm" to Team O'Neil Rally School LLC and is protected from said release under FOIA (5 U.S.C.552) subsection (b)(4).
Registration
Please fill out the form below to register for the course. Payment will be expected at sign in time.
From beginning to end, the care, detail and attention we were shown by S.E.I. was absolutely professional. The course was catered to our exact requests, and far exceeded our expectations. For any SOF across the enterprise looking for a higher caliber of training that have been desiring more than repeating other shooting courses, this is the answer. The wide array of ranges at the Sig Sauer Academy as well as the courses offered by S.E.I. will accommodate all your needs.
A one word summary for folks who are short on time with a long list of task – "Impressive"
I just returned from a condensed one week pistol/rifle course at the Sig Sauer Academy.  I am a busy guy and don't have a lot of time to focus on any one task or subject.  I actually debated, rather or not I had five days to devote to the attendance of the Sig Academy.  In retrospect, it was the best five days of training I have ever received………..and this said with an extensive career with the US Military, with the great majority in Special Operations.
The instruction was world class and delivered by true professionals, they were extremely knowledgeable, capable and skilled in the science of firearms and the art of teaching.  The weapon drills and firing courses where uniquely developed for my small group; our assigned instructors where able to quickly evaluate our level of proficiency, build a program of instruction, and implement a professional training plan.
I left the course not only as a better shot, but also, a quicker, more accurate and efficient shooter.  I also acquired a plethora of tips, tactics and information to pass on to my students that are beginning their careers as Special Operators.
"THANKS" Sig Staff