Tactical Lead Climbing - Winter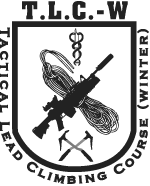 Introduction
The TLC-W is designed to acquaint and train selected special operators to the specifics of mountaineering lead climbing under bare rock and/or ice/snow conditions.  It is not a course that teaches basic mountaineer principles and fundamentals.  (See SEI's Mountain Rescue Training [MRT] Course.)
Tactical Lead Climbing Course (TLC) Winter
All participants in a TLC course must already possess a sound understanding of mountain operations.  (Not everyone harbors the necessary skills and acumen to be lead climbers.  Units should ensure TLC candidates are suitable for this training.)
Topics taught in this course include:
Knots, anchor systems, belay stations, and management;
Ascent and descent training;
Route selection, movement, mechanical advantages, and self-rescue techniques;
Nighttime/low-illumination operations.
Specific client mission needs and dictates
Minimum class size is six and maximum is six.  (Instructor-to-student ratio = 1::3)
TLCs are held in New Hampshire's Mount Washington Valley near North Conway.  Attendees will be lodged at one of several SEI-designated conference facilities which provide all expected amenities.  Air travel is to Portland ME, Manchester NH, or Boston MA.
Length of course is 10 academic and field days.  Field over-night training operations will not occur, although there may be sustained-period training exercises.
For the cost of this course of instruction (COI), contact the Director, SEI
Logistical support of this COI requires full per diem for Carroll County, NH.  Specific lodging and meals arrangements and requirements are designated by SEI.  All SEI-specific personal and professional gear and equipment must be provided by the attendee.
The typical COI schedule consists of:
Day 1: Knots, protection belay anchors, station management; practicum.
Day 3: Descents, lowering, rappelling, rappelling transitions, etc.
Day 4: Lead considerations, aid climbing techniques, protection, traverses, rope drag, etc.
Day 5: Route-finding, time management, climbs with tactical loads, etc.
Day 6: Short-roping, short-climbing, etc.
More.
All field operations are conducted by certified American  Mountain Guides (AMGA).
TLC courses fulfill all or part of the following USAF CFEP 1T2X1-Related Tasks:
Low- and High-Angle Rescue Fundamentals:   6.3
Rappel: 6.5
Snow and Ice climbing: 6.6
Snow and Glacier Travel: 6.7
Avalanche Hazard and Rescue: 6.8
Mountain Evacuation Operations: 6.9