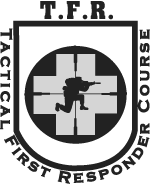 Introduction
Be it direct actions, CSARs, defensive operations, foreign nation training, humanitarian/civic action missions possible? Tactical First Responder prepares personnel to realities of bare-knuckles, down-in-the-dirt, remote tactical medicine. Minimum class size is 10. Typically held in NH, this course is mobile training team (MTT)-capable, depending upon location. Length of COI is 10½ academic and field training days over a 12-day period. An answer to team leaders and commanders who want to reduce battlefield deaths.
Topics
Tactical Combat Casualty Care [TCCC, T-triple-C, TC3]
Patient assessment system
Tactical medicine (inclusive of "advanced measures" which include IVs/IOs, surgical airway
Chest needle decompression)
Environmental emergencies and medicine
Medical emergencies
Expeditionary considerations and medicine
Patient transport and movement
Written and practical examinations (FTXs)
Objectives
TFR teaches non-medically-trained operators how to think–not just what to think–for the medical aftermath of a gunfight.
It teaches one to become the eyes and ears–the hands–of team PJs/corpsmen/medics.
It is the way for tactical personnel to be trained for the imposition of casualties on hostile missions.
It is self-care medicine at the individual operator's level.
TFR is mission survival–team survival–when the PJs/corpsmen/medics get slammed and cannot provide the care that is needed.
TFR's life-saving medical skills span the spectrum of mission requirement.
It is an answer to team leaders and commanders who want to reduce battlefield deaths and regretful letters to families explaining, "Why?!"
Finally, TFR is a tested and proven medical concept on the GWOT battlefield.
TFR saves lives.